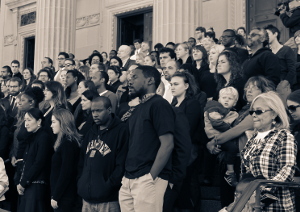 Day in and day out, our attorneys, investigators, client advocates, social workers and administrators fight for the rights and freedoms of our clients. However, unstable, unreliable and inadequate funding remains the greatest threat to public defense in New Orleans.
It takes a village to ensure justice remains and our clients have access to the services they need to access mental health treatment, substance abuse counseling, job training, housing and break the cycles of recidivism. Because of people like you, we can continue to protect Constitutional rights and fight unconstitutional practices in courts and jails.
Will you help us continue our fight for justice?
$50 pays for an hour service referral consulting with a client advocate or social worker.
$100 helps a client access much needed substance abuse treatment.

$250 helps end Debtor's Prisons ensuring Equal Protection.
$500 helps veterans and homeless receive medical and mental health advocacy and treatment.
$750 helps ensure poor people have access to a fair and just criminal justice system.
$2500 helps advocate for children and young people and secure crucial education and support services.
$5000 helps guarantee the 6th Amendment Right to Counsel.

We are committed to this city, its health and safety, and its citizens. It will take hard work from all of us, but must continue to grow and develop if New Orleans wants a commitment to justice and fairness.
With the generosity of people like you, our goal of a better New Orleans, a more just New Orleans, a more fair place to live and work, can be realized.