Details

Thursday, 21 August 2014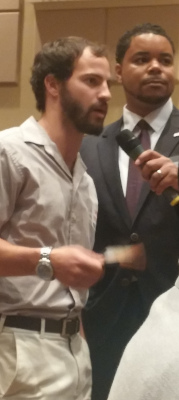 Orleans Public Defenders' Nathan Fennell speaking up for public defense funding at Mayor Landrieu's District A Community Budget Meeting.
"I don't think this is a zero sum game. I think the public defender's office saves the city money." He says the office gets people into drug treatment and job training rather than letting them sit in jail at the city's expense.
See The Lens' transcripts from reporter Charles Maldonado's Live Blog here
Details

Thursday, 14 August 2014
On August 12th, the Honorable Trudy M. White of the 19th Judicial District Court issued a stay of prosecution for 60 days in The state of Louisiana v. Turner et al. This order was both brave as well as the only fair and just decision in a case with ramifications for all of our Constitutional rights.
The Turner case involves 19 co-defendants with myriad, complicated charges brought against each, many of whom are too poor to afford legal representation. In accordance with the U.S. and Louisiana constitutions, it is the state's responsibility to ensure adequate counsel for all accused citizens. Because the East Baton Rouge Public Defenders Office is inadequately funded, these defendants were appointed attorneys outside of the public defenders office, many of whom have little to no experience in criminal defense. This scenario would not only jeopardize the accused's right to counsel (and subject these cases to a lengthy and expensive appeals process), but permit the government to take months' worth of an individual's private labor or property without compensation.
Judge White recognized this conflict and upheld the sanctity of our Constitution in her decision. It is our sincere wish for the legislature to recognize that the state can only prosecute to the extent a citizen can be defended. Until our public defenders have stable, reliable and adequate funding, our criminal justice system will continue to falter.
Details

Thursday, 31 July 2014
Bernard Noble is a 48-year-old father and a truck driver from New Orleans. He's currently serving a 13-year prison sentence for an act that is now legal in Colorado, Washington, and many other states.
On October 27, 2010, two New Orleans police officers spotted Noble riding a bicycle down Miro Street. With no probable cause, they did a stop-and-frisk and turned up two joints. A jury convicted him of marijuana possession. Noble had previously served time for two minor drug charges, the last one nearly a decade prior. Under Louisiana's three strikes law, Noble faced a mandatory minimum sentence of 13 years in prison.
The case judge, looking over Mr. Noble's impressive work history and support of his children, refused to give him 13 years. Instead, he sentenced him to five years without parole. Noble, the judge said, "is one of the few truly deserving" a lesser sentence.
Orleans Parish District Attorney Leon Cannizzarro appealed the sentence: He insisted Noble go down for the whole 13. This is typical in Louisiana, where "triple-billing" defendants is a matter of course and men like Bernard Noble receive sentences far out of proportion to their crimes.
Under Louisiana law, Cannizzarro prevailed. An appeals court mandated a 13-year sentence for Bernard Noble. The judge in that case found himself handcuffed by state laws. In an extraordinary opinion, he stated:
"This Court believes with all of its heart and all of its soul that this is injustice."
Bernard Noble has appealed his case to the Louisiana Supreme Court. He is waiting to hear whether the Court will reconsider Noble's extraordinary punishment. Meanwhile, he wakes every day behind bars."
For more information and to add your voice of support for the commutation of Bernard Noble's cruel and unusual sentence, please visit http://anoblecause.wix.com/bernard-noble#!the-project/ceu8
Details

Wednesday, 25 June 2014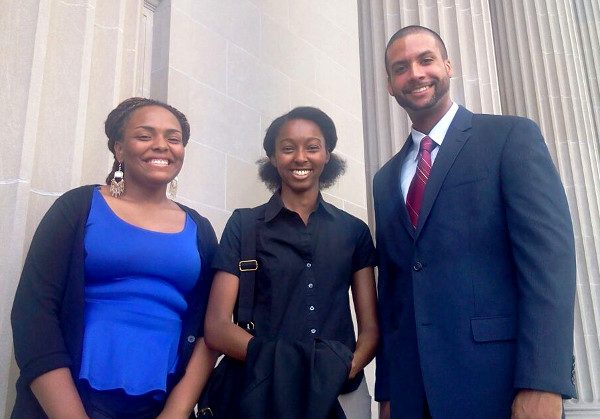 Suit Up students Morgan Grant and Bria Hayes with Will Snowden.
Between June 17-20th, Orleans Public Defenders hosted six high school students participating in the Louisiana State Bar Association's Suit Up For The Future: Summer Legal Institute program.
Paired with OPD staff attorneys Lauren Anderson, Adrienne Cousins, Anna Fecker, Max Gumina, Lindsey Samuel, Tina Peng and Will Snowden, these students received insight into the legal profession from the office to the courtroom through the LSBA's "Shadowing Assignment."