Details

Wednesday, 09 April 2014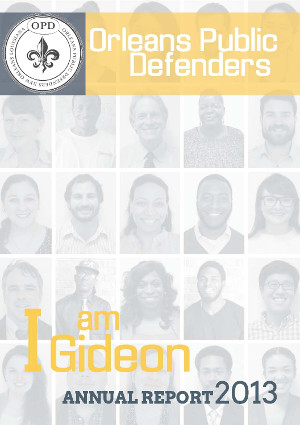 Fifty years ago, a Florida drifter changed the legal landscape forever. In five handwritten pages to the U.S. Supreme Court, Clarence Earl Gideon asserted he had the right to a lawyer - even with no money in his pocket. The United States Supreme Court agreed. In the landmark case, Gideon v. Wainwright, the Court ruled the right to a lawyer is fundamental, essential to the fair trial and cannot be denied. Moreover, the right means everyone is entitled to effective representation. The Orleans Public Defenders Office (OPD) strives each day to provide our clients zealous legal representation, breathing life into this constitutional guarantee.
We all have much in common with Clarence Gideon. We believe in fairness and justice. Further, we are taught that fairness and justice are owed - inalienable - to all of us. What we may forget is, in the end, we are all Gideon.
Annual Reports offer a chance to look back and reflect on the past year; this report was no different. 2013 was a year full of challenges, victories and defeats, both big and small, and a renewed dedication to the call of Gideon. Each one of us has a very personal reason why we continue on in often arduous circumstances, but together we push forward working for change and justice. We welcome you to join us on the journey.
Click on the image, or here, to download the report.
Details

Wednesday, 09 April 2014
Chief Defender Derwyn Bunton responds:
The recent death of Orleans Parish Prison inmate Willie Lee should refocus our attention on improving the safety and security of all inmates housed in the Orleans Parish Prison.
We know from direct experience many of our clients do not feel safe or secure in the various jail facilities in Orleans Parish.
Dozens have made visits to the ER from injuries sustained while in OPP. Many areas of the jail are unmanned or simply poorly monitored by personnel well enough to ensure basic inmate safety.
We appreciate the immediate actions taken by the sheriff when notified of a direct threat or specific safety concerns.
However, more needs to be done to secure the entire population before these threats and safety concerns arise. In order to put the appropriate resources necessary to ensure the health and safety of all OPP inmates, the jail population should be reduced to reflect the safest ratio of OPP personnel to inmates.
Most people in the jail now are there pre-trial on bond — not because they pose a risk to the community or a risk of flight but because they are too poor to make bail.
If OPP were less crowded with people who pose a minimal risk, the jail would be better equipped to handle crises, violence and inmate health. By reducing the jail population to a number that can be safely and securely managed, a safer environment for both the inmates and prison personnel is achieved.
We need to focus on establishing a right-sized jail by utilizing cheaper and safer alternatives to detention. One way to accomplish this is to expand electronic monitoring and investing in the infrastructure needed to actually monitor those under supervision. This will help reduce the jail population and save the city money.
Via The Advocate...
Details

Tuesday, 21 January 2014
New Orleans, LA – The Orleans Public Defenders (OPD) are proud to announce our own Chief of Trials Kenny Green is the recipient of the 2014 CityBusiness Leader in Law. Green, the sole court-appointed honoree, is among 50 of New Orleans' top legal professionals recognized for moving the legal community forward with energy, innovative ideas, achievements and a commitment to excellence.
In November, Green marked his 30th year as a criminal defense attorney in New Orleans, the vast majority of that time spent in public defense, first as a part of the original Orleans Indigent Defense Program and now as an integral piece of the restructured OPD. "Kenny is courage incarnate, fighting for our clients and lawyers. Kenny has dedicated himself to make the practice of public defense in New Orleans one of the best in the country," said Chief Defender Derwyn Bunton. "His leadership and dedication is unparalleled and his advocacy for public defense is tireless both in the court and out."
Green leads a team of 50 attorneys representing nearly 30,000 court-appointed clients each year. Despite chronic underfunding, Green and the OPD staff continue working towards an efficient and just criminal justice system in New Orleans.
Now in its tenth year, Leadership in Law honors court-associated attorneys, in-house counsel and firm-associated attorneys. The 2014 class will be recognized March 24 at the New Orleans Museum of Art and will be featured in a special issue of New Orleans CityBusiness.
Read more in our Press Release.