Details

Wednesday, 25 June 2014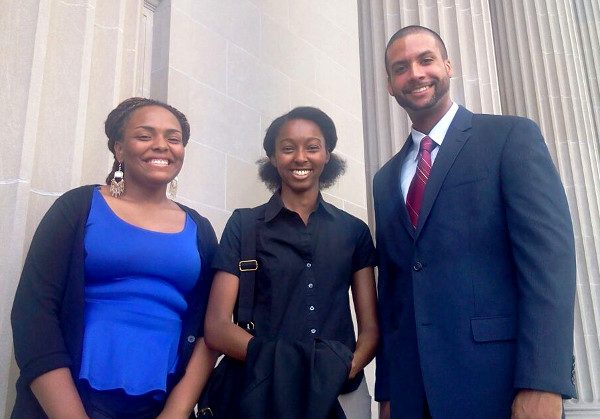 Suit Up students Morgan Grant and Bria Hayes with Will Snowden.
Between June 17-20th, Orleans Public Defenders hosted six high school students participating in the Louisiana State Bar Association's Suit Up For The Future: Summer Legal Institute program.
Paired with OPD staff attorneys Lauren Anderson, Adrienne Cousins, Anna Fecker, Max Gumina, Lindsey Samuel, Tina Peng and Will Snowden, these students received insight into the legal profession from the office to the courtroom through the LSBA's "Shadowing Assignment."
Details

Monday, 16 June 2014
Chief Defender Derwyn Bunton responds to recent talks of moving dozens of mentally-ill inmates from Orleans Parish.
The prospect of moving tens, possibly hundreds, of pretrial detainees 70 miles away while they await trial violates the detainees' most basic, fundamental right to an attorney. Many, if not all, of these detainees suffer from serious mental health concerns and represent the most vulnerable population in the jail. They require heightened attention from their attorneys, social workers and advocates to ensure they receive effective representation and critical, necessary care. Public defenders, already beleaguered with heavy caseloads — in the hundreds for many — simply don't have the resources to travel more than two hours multiple times a week.
The sheriff's monitoring of privileged, confidential attorney-client phone calls has forced public defenders to abandon meaningful telephonic communications, increasing the need for in-person, face-to-face visits with pretrial detained clients. Recognizing the utmost importance of unrestricted attorney-client communications, judges have accommodated transport requests from attorneys for clients being held in other jurisdictions. As such, the sheriff's plan must take into consideration the potentially vast personnel and additional costs of transporting pretrial detainees dozens of times a week. OPD's attorneys make nearly 200 jail visits each week and this removal of access to clients could drastically slow court proceedings and endanger fair representation.
OPD, judges, the District Attorney's Office and Pretrial Services have worked diligently together to increase the efficacy of the criminal justice system in recent years and this move by the sheriff will be a retreat from justice and fairness and a roadblock to an efficient and effective criminal justice system.
Via The Advocate
Details

Wednesday, 11 June 2014
NPR's recent investigative special series, Guilty and Charged, explored the use of fees charged to criminal defendants across the country, which has "created a system of justice that targets the poor."
Reporter Joe Shapiro spoke with Chief Defender Derwyn Bunton on the way New Orleans' poorest defendants are charged for their public defender. Listen to the report here.
The entire powerful series, Guilty and Charged, can be found here.
Details

Wednesday, 14 May 2014
Chief Defender Derwyn Bunton recently discussed mass incarceration, drugs, race and their intersection with the criminal justice system for the local New Orleans program, Health Issues hosted by Chris Sylvain.
"Once you get to the courthouse door, there's your shot at equal justice. But here in Orleans Parish you've got a $135 million police force, a $16 million DA office, an $80 million sheriff's office and about a $6 million court system... all designed to prosecute and jail you. If you're too poor to afford an attorney, there's just about $6 million designed to defend you, to make sure if you're innocent you don't go to jail and the system respects the rights and due process if they are going to prosecute you." -- Chief Defender Derwyn Bunton.