Details

Thursday, 11 September 2014
OPD is proud to announce the inaugural Ben Levick Sullivan Investigator Fellow, Sara Jones. After a nationwide search and hundreds of applicants, Sara was overwhelming chosen to establish the fellowship and further OPD's mission to give every client zealous, client centered representation.
Sara spent the last two years as a client services coordinator and AmeriCorps volunteer for the St. Bernard Project (SBP). She has worked with care and dedication with numerous low income and vulnerable populations throughout the New Orleans area. While at SBP, Sara helped clients navigate the system to return to their homes and connected clients to counseling and substance abuse programs. Recognizing the need for high quality legal representation and advocacy, Sara is eager to contribute to OPD's mission and Ben's legacy as the first Ben Levick Sullivan fellow.
Details

Wednesday, 10 September 2014
from Chief Defender Derwyn Bunton:
I want to share with everyone the optimism I have for the future of public defense and the Orleans Public Defenders Office (OPD). I am excited because all across the country we as public defenders are redefining ourselves, reasserting ourselves and living up to ourselves. More than 50 years ago, in Gideon v. Wainwright, the United States Supreme Court stated we are necessary for fairness and justice in our criminal courts, and we are now breathing in what that means. Sometimes forsaken and minimized, I believe today – truthfully – Gideon is rising.
I say rising because what is happening now with Gideon is not new. It is not some new interpretation of the law or change in statute. We were told 50 years ago how important our job is, what difference we are supposed to make, and for whatever reason public defenders did not believe it or maybe just over time we forgot. We buried our obligation, our duty and our challenge. Our U.S. Supreme court told us we are fundamental to the existence of justice, and I believe OPD is beginning to live up to the promise and duty of the right to not just counsel, but justice.
Details

Thursday, 21 August 2014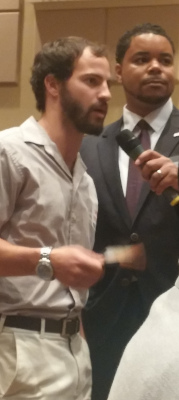 "I don't think this is a zero sum game. I think the public defender's office saves the city money." He says the office gets people into drug treatment and job training rather than letting them sit in jail at the city's expense.
Orleans Public Defenders' Nathan Fennell speaking up for public defense funding at Mayor Landrieu's District A Community Budget Meeting.
See The Lens' transcripts from reporter Charles Maldonado's Live Blog here
Details

Thursday, 31 July 2014
Bernard Noble is a 48-year-old father and a truck driver from New Orleans. He's currently serving a 13-year prison sentence for an act that is now legal in Colorado, Washington, and many other states.
On October 27, 2010, two New Orleans police officers spotted Noble riding a bicycle down Miro Street. With no probable cause, they did a stop-and-frisk and turned up two joints. A jury convicted him of marijuana possession. Noble had previously served time for two minor drug charges, the last one nearly a decade prior. Under Louisiana's three strikes law, Noble faced a mandatory minimum sentence of 13 years in prison.
The case judge, looking over Mr. Noble's impressive work history and support of his children, refused to give him 13 years. Instead, he sentenced him to five years without parole. Noble, the judge said, "is one of the few truly deserving" a lesser sentence.
Orleans Parish District Attorney Leon Cannizzarro appealed the sentence: He insisted Noble go down for the whole 13. This is typical in Louisiana, where "triple-billing" defendants is a matter of course and men like Bernard Noble receive sentences far out of proportion to their crimes.
Under Louisiana law, Cannizzarro prevailed. An appeals court mandated a 13-year sentence for Bernard Noble. The judge in that case found himself handcuffed by state laws. In an extraordinary opinion, he stated:
"This Court believes with all of its heart and all of its soul that this is injustice."
Bernard Noble has appealed his case to the Louisiana Supreme Court. He is waiting to hear whether the Court will reconsider Noble's extraordinary punishment. Meanwhile, he wakes every day behind bars."
For more information and to add your voice of support for the commutation of Bernard Noble's cruel and unusual sentence, please visit http://anoblecause.wix.com/bernard-noble#!the-project/ceu8