Details

Monday, 23 February 2015
OPD and The Justice and Accountablity Center of Louisiana are joining forces for an Expungement Hour.
All are welcome who would like help with the expungement process.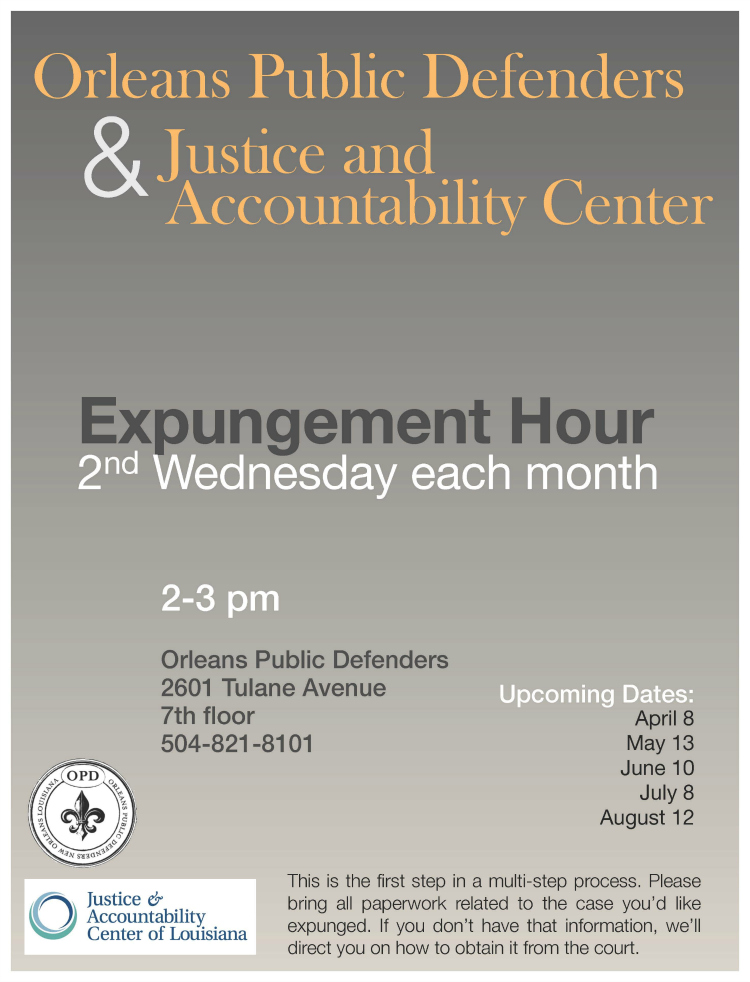 Details

Tuesday, 16 December 2014
"We at OPD are the everyday witnesses to the ordinary injustices taking place across the country and each day in New Orleans. In this moment we have an opportunity to shout from the dark at a moment when people are listening."
from Chief Defender Derwyn Bunton:

As a long time civil rights attorney and public defender, I feel I am predisposed to root for the underdog – the one facing the heavy weight of the state (police, prosecution, courts and incarceration) with only a defense attorney for protection. Yet I too was upset when the media announced in Ferguson, Missouri and Staten Island, New York no indictments are forthcoming in the shooting death of Michael Brown or the chokehold death of Eric Garner. Both African-American men died at the hands of police officers.
The bias in our criminal justice system – whether in Ferguson, Staten Island or New Orleans – is evident from cradle to corrections. African-Americans, other minorities and poor people generally face disproportionate risks of suspension, expulsion and criminalization in school; face increased risk of being unfairly stopped or suspected in public spaces; and face dramatically increased risks of wrongful convictions and longer sentences when criminally prosecuted.