Details

Published on

10 May 2013
FY 12 Budget Amendment Open Meeting
Orleans Public Defenders Office
2601 Tulane Ave., Suite 700
New Orleans, LA 70119
Conference Room
Tuesday, May 14, 2013
10 – 11 A.M.
Open to the public
Details

Published on

06 February 2013
2013 began with an all-too familiar scenario: budget cuts and shortfalls. OPD once again found itself short of necessary funding to provide constitutionally-mandated legal defense for indigent defendants. Although OPD was included in the city's 2013 budget, the $400,000 appropriation cut, along with decreases in state funding and unstable revenue sources, hinder our ability to keep up with the growing demands of our criminal justice system.
While the Restriction of Services Plan this year will not be as drastic as 2012, it will cause delays in the courts and potential constitutional crises for the nearly 25,000 indigent defendants served by our office.
OPD represents over 80% of defendants in Criminal District court, most of the defendants in Municipal Court and many in Traffic Court. Hiring freezes, attorney shortages, rising caseloads and service restrictions are slowing case processing time, affecting the quality of service and jeopardizing the integrity of court proceedings, particularly in conflict representation and Municipal Court, both severely understaffed.
Attorney caseloads throughout all divisions are quickly rising beyond the state standards; most attorneys already exceed state standards. While the return of conflict representation in the Conflict Division in July 2012 was much-needed, its reduced capacity is not enough to adequately and ethically keep up with the demand. The situation in Municipal Court is also especially urgent as those attorneys are already above manageable levels.
While we are thrilled about our newly-created in-house Capital Division, we have been forced to slash the division's budget. As a consequence, OPD will not be in a position to handle any increase in capital prosecutions this fiscal year.
OPD continues to advocate for adequate and stable funding for public defense. The growing funding crisis compromises OPD's ability to provide constitutionally-mandated legal services, brings higher costs in our criminal justice system, and ultimately puts public safety at risk. We continue working with our partners and stakeholders in the hopes these service restrictions do not have to continue.
Details

Published on

19 March 2013
Fifty years ago, the United States Supreme Court ruled in the landmark case, Gideon v. Wainwright, the right to a lawyer is fundamental, essential to a fair trial and cannot be denied. Moreover, the right means everyone is entitled to effective representation. The Orleans Public Defenders Office (OPD) strives each day to provide our clients zealous legal representation, breathing life into this constitutional guarantee.
It is hard to believe that within many of our lifetimes, legal representation was not a guarantee. This guarantee is often taken for granted today. Should we? Has the promise of full access to counsel, to justice really been fulfilled?
Details

Published on

21 January 2013
"Injustice anywhere is a threat to justice everywhere," said Martin Luther King, Jr. Nearly fifty years ago, Dr. King delivered his historic "I have a Dream" speech in Washington. He called for civil and economic rights – equality for all regardless of race, status and beliefs.
However, the fight for civil rights didn't end with that speech. Injustice didn't disappear with the end of segregation. Disparity still lingers in our criminal justice system. Poor people are incarcerated at a higher rate because they can't afford bond, indigent defendants make up 80% of court dockets and public defense is significantly underfunded. Retrials, wrongful convictions and exonerations persist.
Many in our community haven't been given a fair shot at life. Now is the time for this to change. Addressing education, mental health, rehabilitation, re-entry programs, employment and healthcare – and the connection to our criminal justice system – must be priorities if we ever hope to break the cycle of violence. Our clients are fighting for a chance in court, a second chance at life. Less known, our clients fight for a chance to prove they are better than the worst thing they've ever done and many times to prove their innocence – with only their public defender standing beside them.
We fight everyday for justice, for fairness in our criminal justice system and for those unjustly shut out of the process. Justice should never hinge on the amount of money in a man or woman's pocket, or skin color, or even the side of the tracks they come from. Justice is demanded by our constitution. Justice is a human right, in and out of the courtroom. Justice should be a reality, not a dream, for all New Orleanians.
Details

Published on

21 November 2012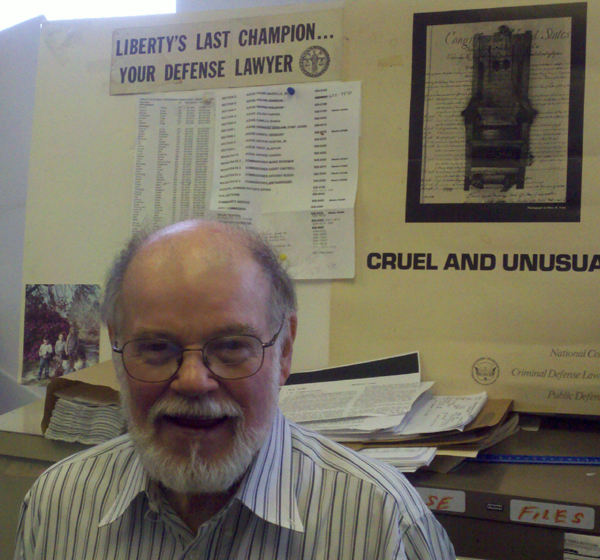 OPD recently honored one of the stalwart advocates for public defense, Clyde Merritt, with the eponymous "Clyde Merritt Award." The award, recognizing commitment and fight for the cause of indigent defense, was established this year in his honor and will be awarded annually.
Mr. Clyde, as we called him, practiced law for 49 years, 12 years under former District Attorney Jim Garrison and 37 as a defense attorney, and was an inveterate part of OPD. He was always ready and willing to answer the call for his own clients, prep defense theories with other attorneys and talk about his past antics in the courthouse. He had a tenacity and command of the courtroom that just couldn't be taught. Mr. Clyde was the first person in the office and always the last one to leave. Weekends were just another day to work, often pajama-clad and with one of his beloved dogs in tow.
"You doing alright? Say yeah," greeted everyone he passed. Former colleagues remember his incredible knowledge of the law, and the oftentimes harsh reality of it, which gave him great empathy for his clients. Mr. Clyde really, truly cared about his clients and often went beyond the call of duty. He embraced the idea that he would go to jail for his clients, and often was held in contempt. That just simply was part of his role as an attorney.
Mr. Clyde embodied the concept of a public defender - to stand next to the person who has no one left to stand next to him. And Mr. Clyde did.
Read more about Mr. Clyde's life work at NOLA.com