Details

Published on

14 May 2014
Chief Defender Derwyn Bunton recently discussed mass incarceration, drugs, race and their intersection with the criminal justice system for the local New Orleans program, Health Issues hosted by Chris Sylvain.
"Once you get to the courthouse door, there's your shot at equal justice. But here in Orleans Parish you've got a $135 million police force, a $16 million DA office, an $80 million sheriff's office and about a $6 million court system... all designed to prosecute and jail you. If you're too poor to afford an attorney, there's just about $6 million designed to defend you, to make sure if you're innocent you don't go to jail and the system respects the rights and due process if they are going to prosecute you." -- Chief Defender Derwyn Bunton.
Details

Published on

28 April 2014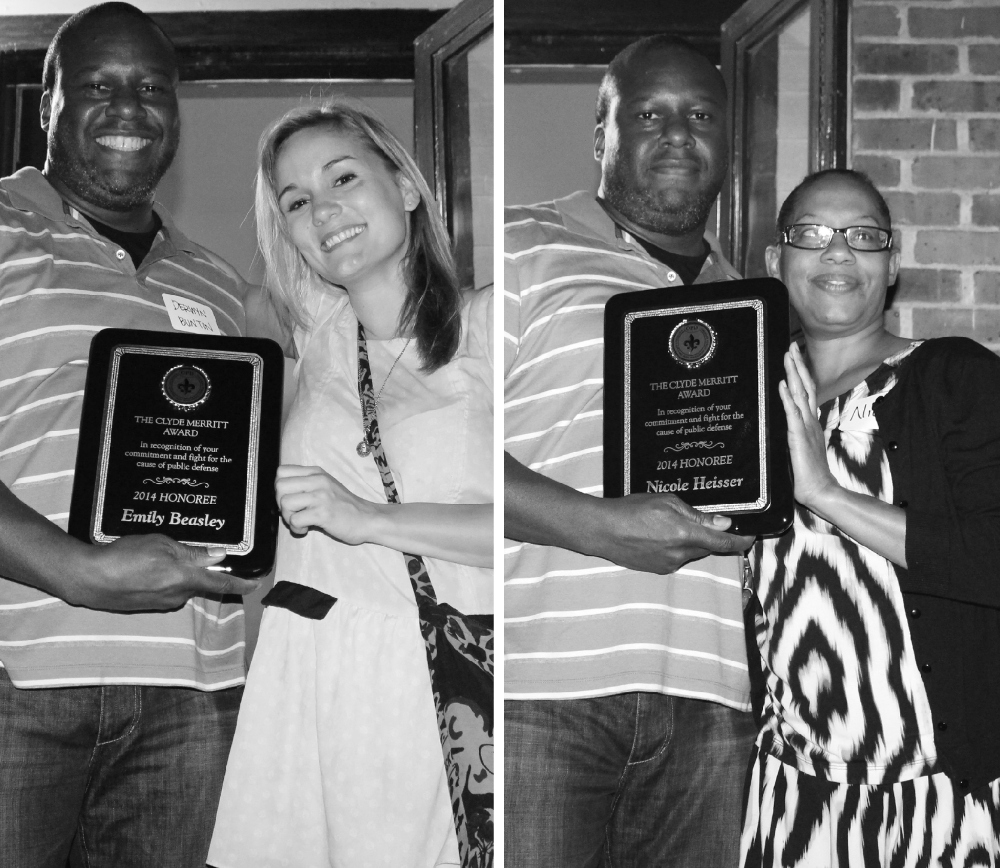 The Orleans Public Defenders (OPD) recently honored Emily Beasley and Nicole Heisser as the 2014 recipients of the "Clyde Merritt Award," recognizing their extraordinary dedication to public defense. Together, the two investigators have changed the face of investigative work in the New Orleans criminal justice system, most notably for public defense.
Beasley's investigative career began straight out of Tulane University when she joined OPD during the transition to an emerging system for public defense. Often faced with incredulity for the work being done, Beasley and her fellow investigators doggedly took on the injustices faced by indigent defendants. Beasley's commitment to justice continues today as she fights for indigent clients in federal court.
2014 marked Heisser's 20th year working on behalf of indigent defendants, first at the Louisiana Capital Assistance Center and then OPD. Heisser worked closely with Clyde Merritt and she, along with fellow recipient Beasley and Ben Sullivan, were part of a revolutionary crew of investigators that actively and zealously investigated cases in search of the facts and stories for each client's case. Heisser leads a team of 12 investigators as OPD's Supervising Investigator.
Chief Defender Derwyn Bunton presented the awards during the launch party for the newly created Ben Sullivan Investigator Fellowship. Established in the memory of Ben and his incredible passion and dedication for public defense, the fellowship follows Ben's investigative career at OPD. Ben devoted himself to those in need, sought the truth and endlessly fought for justice. Launching later this year, with a focus on applicants committed to representing the most disenfranchised, the Ben Sullivan Investigator fellowship will be an integral part in fulfilling OPD's mission to provide zealous, client-centered representation.
Established in 2012 to honor one of the stalwart advocates for public defense, Clyde Merritt, the Clyde Merritt Award recognizes commitment and fight for the cause of public defense in New Orleans.
Details

Published on

09 April 2014
Chief Defender Derwyn Bunton responds:
The recent death of Orleans Parish Prison inmate Willie Lee should refocus our attention on improving the safety and security of all inmates housed in the Orleans Parish Prison.
We know from direct experience many of our clients do not feel safe or secure in the various jail facilities in Orleans Parish.
Dozens have made visits to the ER from injuries sustained while in OPP. Many areas of the jail are unmanned or simply poorly monitored by personnel well enough to ensure basic inmate safety.
We appreciate the immediate actions taken by the sheriff when notified of a direct threat or specific safety concerns.
However, more needs to be done to secure the entire population before these threats and safety concerns arise. In order to put the appropriate resources necessary to ensure the health and safety of all OPP inmates, the jail population should be reduced to reflect the safest ratio of OPP personnel to inmates.
Most people in the jail now are there pre-trial on bond — not because they pose a risk to the community or a risk of flight but because they are too poor to make bail.
If OPP were less crowded with people who pose a minimal risk, the jail would be better equipped to handle crises, violence and inmate health. By reducing the jail population to a number that can be safely and securely managed, a safer environment for both the inmates and prison personnel is achieved.
We need to focus on establishing a right-sized jail by utilizing cheaper and safer alternatives to detention. One way to accomplish this is to expand electronic monitoring and investing in the infrastructure needed to actually monitor those under supervision. This will help reduce the jail population and save the city money.
Via The Advocate...
Details

Published on

21 January 2014
New Orleans, LA – The Orleans Public Defenders (OPD) are proud to announce our own Chief of Trials Kenny Green is the recipient of the 2014 CityBusiness Leader in Law. Green, the sole court-appointed honoree, is among 50 of New Orleans' top legal professionals recognized for moving the legal community forward with energy, innovative ideas, achievements and a commitment to excellence.
In November, Green marked his 30th year as a criminal defense attorney in New Orleans, the vast majority of that time spent in public defense, first as a part of the original Orleans Indigent Defense Program and now as an integral piece of the restructured OPD. "Kenny is courage incarnate, fighting for our clients and lawyers. Kenny has dedicated himself to make the practice of public defense in New Orleans one of the best in the country," said Chief Defender Derwyn Bunton. "His leadership and dedication is unparalleled and his advocacy for public defense is tireless both in the court and out."
Green leads a team of 50 attorneys representing nearly 30,000 court-appointed clients each year. Despite chronic underfunding, Green and the OPD staff continue working towards an efficient and just criminal justice system in New Orleans.
Now in its tenth year, Leadership in Law honors court-associated attorneys, in-house counsel and firm-associated attorneys. The 2014 class will be recognized March 24 at the New Orleans Museum of Art and will be featured in a special issue of New Orleans CityBusiness.
Read more in our Press Release.
Details

Published on

21 January 2014
"The right way is not always the popular and easy way. Standing for right when it is unpopular is a true test of moral character." –Margaret Chase Smith
It seems the more we hear the stories, the more inevitable Martin Luther King, Jr.'s accomplishments become. We can rattle off the biographical landmarks: the Montgomery bus boycott, the multiple nights in prison, the March on Washington; we recite important dates and read his words adorning motivational posters on our office walls. Not only do these recollections burrow into our collective sense of history, but they induce us into a sort of complacency about our own time.
If we allow ourselves to believe MLK, Jr. was predestined to live a life worth memorializing, it diminishes our appreciation for the risks he endured. This failed appreciation not only does a disservice to the man, but also enables us to be complacent to the injustices of our own time. To borrow from his own words, we see the "whole staircase" of his life's work without applying that same faith to our own "first step."