Details

Published on

01 May 2015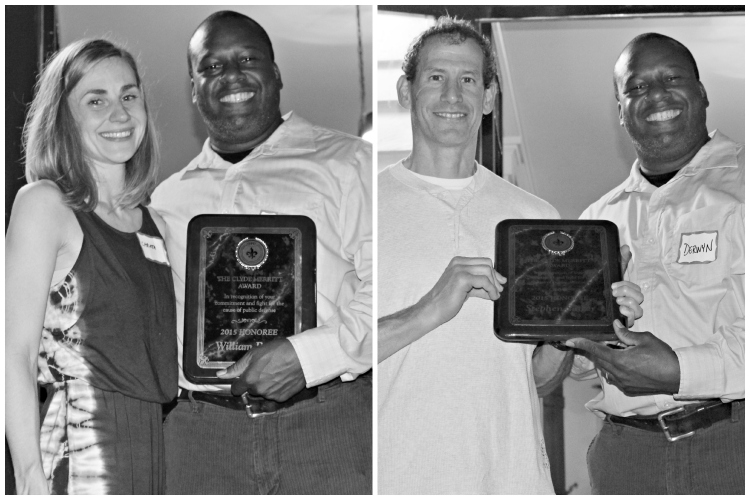 OPD recently honored Steve Singer and Willy Boggs as the 2015 recipients of the "Clyde Merritt Award," recognizing their extraordinary dedication to public defense. Together, Singer and Boggs have revolutionized the face of public defense in New Orleans in the 10 years post-Hurricane Katrina. Both were instrumental in establishing the current client-centered, community-oriented defense practice that now sets the bar for indigent defense in Louisiana.
OPD's clients are more justly represented, public defense and the New Orleans criminal justice system and far more fair and just because of their involvement. Quite simply, OPD would not be what it is today, without the passion, leadership and zealous commitment of Steve Singer and Willy Boggs.
In the aftermath of Hurricane Katrina, Steve Singer led the effort to rebuild, restructure, and reform the public defenders' office, establishing the high level of client-centered vertical representation of OPD today. He was instrumental in moving the office from a part-time contract structure to a full-time, fully-staffed defender office. He remains a staunch advocate for indigent defense and the continued reform of New Orleans' criminal justice system. As Singer put it in 2006, "We are fighting for real justice for real people for the very first time." Singer currently serves as Assistant Clinical Professor of Law at Loyola University College of Law in New Orleans, supervising the criminal defense clinic.
Also honored was Willy Boggs, former Deputy Chief Defender, Training Director and Capital Division Chief for OPD. Boggs was one of the first attorneys in the new OPD. Known throughout the courthouse as one of the most formidable trial attorneys in the state, he has tried and won some of the most difficult cases. He represented thousands of clients and tried many cases, befriending each client and many he remained close to long after the end of the case. Boggs was also instrumental in the formation of OPD's widely recognized training program for new attorneys and led the formation of OPD's capital division.
Chief Defender Derwyn Bunton once again presented the awards during the Ben Levick Sullivan Investigator Fellowship fundraiser. The first year of the fellowship has proven to be a success and an integral part in fulfilling OPD's mission to provide zealous, client-centered representation. The fellowship was established in the memory of Ben Sullivan and his incredible passion and dedication for public defense. Ben devoted himself to those in need, sought the truth and endlessly fought for justice.
Established in 2012 to honor one of the stalwart advocates for public defense, Clyde Merritt, the Clyde Merritt Award recognizes commitment and fight for the cause of public defense in New Orleans.